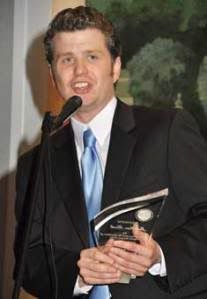 Plaza College's

 very own Professor Jonathan Howle is named Queens person of the week and well deserved at that.
There's no doubt that there are only good things to say about Professor Howle. To sum up the interview on 

NY1

 it was said that Professor Howle is  always lending a helping hand and going beyond the call of duty as a professor always giving 110%.
To say you can go to Professor Howle for anything is and understatement. He has reached into his own pocket to lend out money to a student in  need. How many professors do you know that do that?
He plays an active role on campus and his community and gets all of his drive from his

students

 who he says he can't do anything without.
I think we can all agree with Charles Callahan- director of strategy of 

Plaza college

when says  he has a quality you don't find in many professors. A big  congratulations to Professor Howle!
If only there were more professors like Jonathon Howle,  great pick for Queens Person of the Week!